Benedict Spinoza
(24 November 1632 – 21 February 1677)
Aswars and national struggles continue and escalate, the yearning of the public for ways of achieving peace has been great. To counter the culture of aggression we must understand the peace is more than merely living without conflict. It is the rational thought that can link us.
The philosophy of Benedict Spinoza continues to be more and more relevant
Spinoza argued that no group or religion could rightly claim infallible knowledge of the creator's partiality to its beliefs and ways. Each of us has been endowed with reason, and it is our right, as well as our responsibility, to exercise it. Ceding this faculty to others, to the authorities of either the church or the state, is neither a rational nor an ethical option.
The breadth and importance of Spinoza's work was not fully realized until years after his death and yet it remains applicable in current life.
The Biosophical Institute is rooted in the teachings of Benedict Spinoza
In the early 1930's the name of the Institute was the Spinoza Center of the Roerich Museum. The Museum continues an ongoing effort to spread public awareness of the intermingled roles of peace and culture, and the ways in which each sustains the other.
In Spinozism, the concept of a personal relationship with God comes from the position that one is a part of an infinite interdependent "organism." Spinoza argued that everything is a derivative of God, interconnected with all of existence.
November 24 is Spinoza's birthday – Celebrate Individual Freedom and Social Harmony
In 1932, philosopher, essayist, poet, and novelist George Santayana was invited to present an essay "Ultimate Religion" at a meeting at The Hague celebrating the tricentennial of Spinoza's birth.
In the United States, in honor of Spinoza's 300th birthday (in 1932), it was the Spinoza Center that sponsored a tercentenary celebration of the birth of Benedict Spinoza. Dr. Frederick Kettner, the leader of the Spinoza Center, made public the "Declaration of the First Spinoza Community".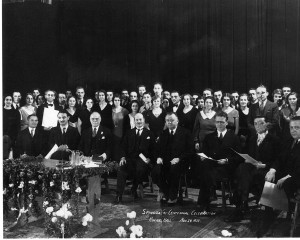 Read more about the Declaration. For Spinoza, democracy was the most superior form of government. Imagine the community that acknowledges the powerful tendency in each of us toward developing a view of the truth that favors the circumstances into which we happened to have been born. But instead of self-aggrandizement, the community is built on appreciating our capacity for reason as what makes each of us a thing of inestimable worth.
We have posted the article about that celebration (reprinted from the 1933 Spring issue of the Spinoza Quarterly, which became the Biosophical Review in 1934), along with the actual declaration and a photo of the celebration (above).